I was initially drawn to yoga as a way to physically challenge myself; although, I soon discovered that there was so much more to it than a good sweat. Yoga became a healthy outlet for emotional release and I began to see the connection between what I was experiencing on and off the mat. Through the years, this practice has softened my rough edges and constantly shows the facets of myself. I received my 200 hour training at Three Sisters Yoga in 2013 through the invaluable lessons of Jen Whinnen, where I became empowered to take what I've learned and share it through continued service. I aim to hold a space where yogis of all walks of life can connect to creativity, movement, self-discovery with a strong focus on the wondrous breath and what an open heart can conjure. Expect a class that's physical, fun, and down to earth. I'm quirky in my sense of humor and always have a great playlist. As both a student and a teacher, I look forward to continuing my yoga journey and sharing light and love with everyone I meet on my path!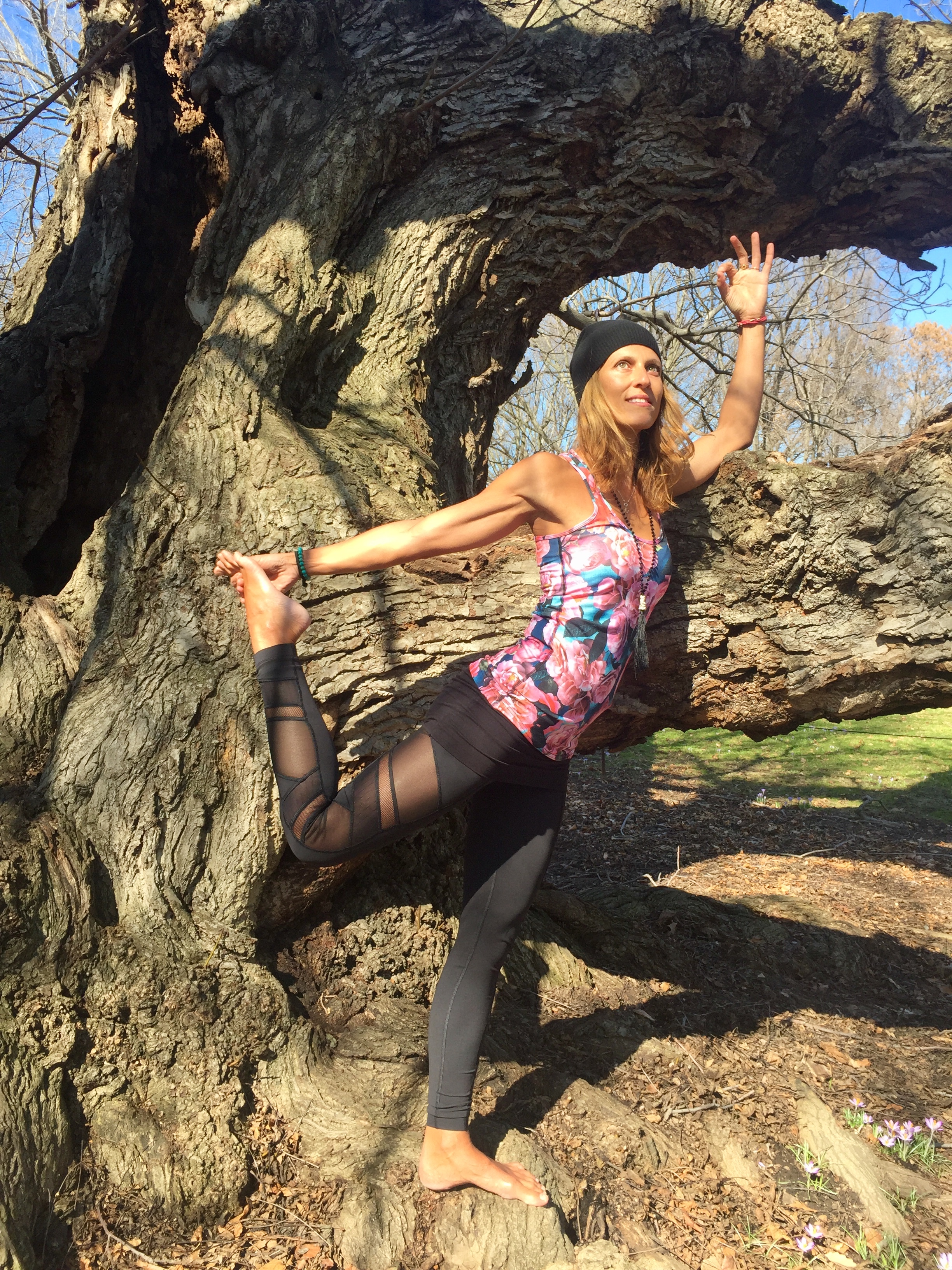 Alex, a mom of two, lives in Brooklyn and has taught yoga for over 10 years. She maintained a consistent practice during both pregnancies and can attest first hand to the many benefits of pre-and post-natal yoga classes. She loves to teach yoga to all ages, infants to adults. Her classes nurture and empower the self! Her mommy & me style classes are magical and her prenatal classes will get you ready for birth. It's all about self-care. Alex is available for children's yoga classes as well as classes in group settings and private classes for all ages, prenatal classes, Mommy&Me style classes, family yoga, Children's yoga, couples and individuals.
Alia's inspiration is driven by the uniqueness of our body and the unique relationship we each have to it. She believes strongly in our capacity to live a more joyful life off the mat when we explore our mental and emotional relationship to our physical being on the mat. Her goal is to make that journey accessible to everyone that walks into her classroom with classes designed guide students to move while strengthen; learn while question; focus while decompress.
Alia's relationship with yoga began in Charleston, SC after experiencing bouts of lower back pain from a career in the restaurant industry and from running. While her back pain disappeared and she felt amazing physically, it wasn't until she moved to New York 2012 that she delved into the meditative and spiritual qualities of yoga that got her hooked.
Alia completed her 200 Hour training with Jata Veda in Brooklyn, continued her training with Leslie Kaminoff at The Breathing Project in Manhattan, and completed a Yin Yoga Training with Corina Benner. Alia's approach is heavily influenced by Leslie Kaminoff's teaching philosophy and Jules Mitchell's biomechanics and movement trainings. With an interest in all types of somatic movement, Alia's goal is to invite as much variability in movement and awareness of the body as possible.
Andromeda Han is a Brooklyn based visual artist and yoga instructor. The first child of Chinese immigrants, east-meets-west has been a constant theme through her life. She completed her 200 hour certification in 2015 through Tattva at Area Yoga under the guidance of senior teachers Keri Setaro and Paula Loose; she has additionally studied the art of teaching restorative yoga with Jillian Pransky at YogaWorks. Andromeda regularly teaches at several boutique studios throughout Brooklyn and has led workshops from the beach of El Salvador to the dust at Burning Man. She is passionate about the power of self-care, offering restorative yoga for a quietly healing experience as well as vinyasa classes that are upbeat and playful while emphasizing safe alignment and thoughtful sequencing. She is especially interested in the intersection of science and spirituality.
Chelsea began dabbling in the world of yoga while in high school to supplement an arduous ballet practice. Soon she found that yoga supported her, both physically and mentally, in a way she had never experienced. Over the years, yoga became her main outlet for strengthening body and softening mind. After working the quintessential NYC grind for the greater part of a decade, she decided it was time to do more of what she loves everyday and dove into a summer intensive 200hr TT program through Abhaya Yoga in Brooklyn. Since then, she has been teaching throughout Brooklyn, bringing students an invigorating and dynamic practice that awakens the musculature body while encouraging the quieting of inner chatter. Come ready to experience unique flows that incorporate a touch of play into practice!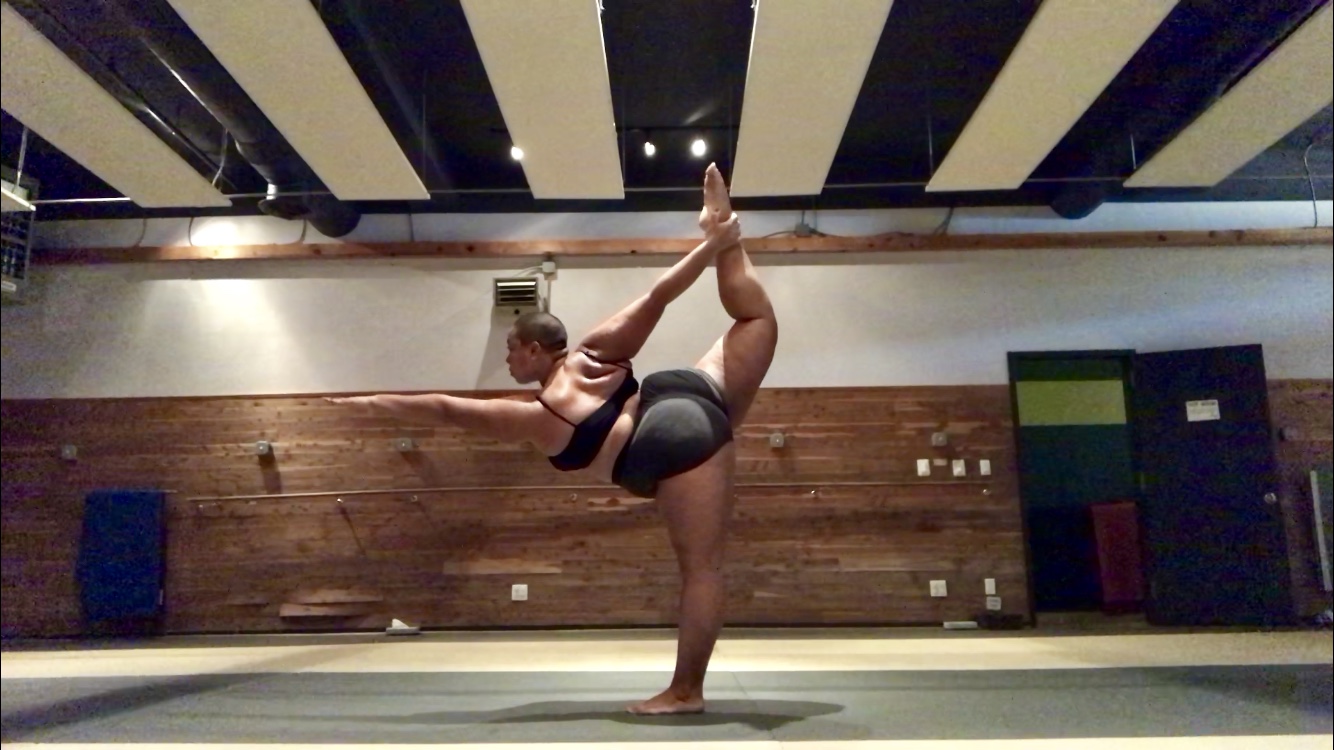 Claudia completed a 220 hr with Kundalini Yoga teacher training with Kundalini Yoga East after completing a 200 hr vinyasa and 100 hour traditional hot teacher training at Yoga to the People. She feels complete gratitude to be able to teach this wonderful practice of yoga that has and continues to help her recover from debilitating depression, anxiety and eating disorders. With her background in movement combined with an ever growing understanding of multiple traditions of yoga, Claudia teaches classes that have many gateways for students to connect to their breath, body and consciousness in a way that's always supported, challenging and safe.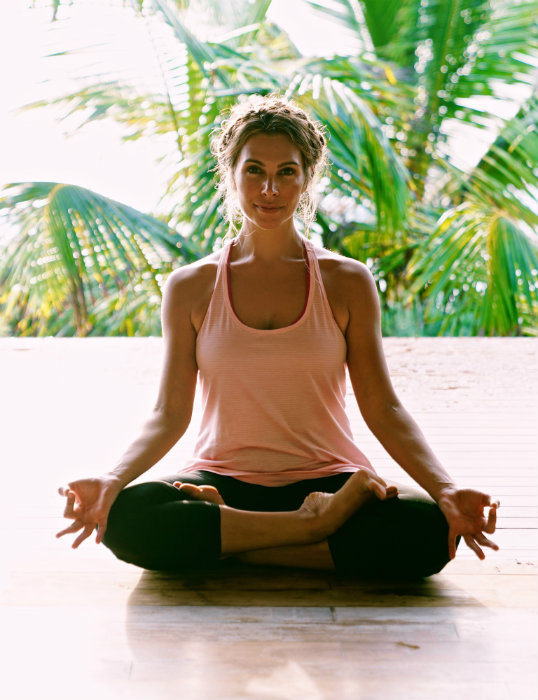 Concetta Troskie, MA, R-DMT, RDT, LPC, is a Licensed Professional Counselor, Dance/Movement Therapist and Drama Therapist at Mindfully Embodied, her private practice in Dallas, Texas. Concetta integrates mental health principles with somatic wisdom, and holds space for compassionate and expressive self-exploration.
Concetta received her Yoga Certification from Sivananda in 2001, and has taught yoga, meditation and movement in India, the Bahamas and Europe. Concetta lived and practiced alongside Thich Naht Hanh in Plum Village, France and is a Certified Mindfulness Trainer. She is founder and facilitator of the first outpatient eating disorders group at UT Southwestern Medical Center, and is a frequent presenter at national conferences.
Corinne Cappelletti completed her Yoga Teacher Training with Kula Yoga Project, 2013. Heavily influenced by her background in Modern Dance, Contact Improvisation, and Somatic Therapy modalities (particularly Bartenieff Fundamentals™ and Body-Mind™ Centering), Corinne teaches an ever-evolving Hatha-based Vinyasa style, specializing in Meditation, Restoratives and Therapeutic Yoga. Corinne expanded her teaching into diverse communities such as, homeless LGBTQ Youth, and various youth through sites where Lineage Project brings mindfulness community building. Corinne became Certified Laban/Barteneiff Movement Analyst (CLMA) in 2009 and a Registered Somatic Movement Therapist and Educator (RSMT-E) in 2011. Corinne trained in Restoratives (Level I 2013) and Therapeutic Yoga (32 hrs., fall 2014), with Jillian Pranksy. She continues to enrich her practice through trauma-based workshops: "Framing the Body-Mind ~Practical, body-oriented approaches to working with traumatized clients," and "Trauma-Sensitive Yoga Teacher Training" with Jenn Turner spring-2015. Corinne has been exhilerated by a new found practice with Kundalini and is excited to share some of this technology with her students.
Elizabeth is excited by a practice where spirituality, physicality, art, and activism meet. They teach poetic, thematic classes with music that will move you. Chanting and a curated playlist set the tone for cultivating strength, flexibility, and bravery for healing inner self and outer world. Engage as much as you like and let the rest wash over you. Every body is welcome.
Their teaching style is deeply influenced by the Unconditional Model from Liberation Prison Yoga's trauma-informed training completed in 2018. Though they've since stepped away, their original training was with Jivamukti: 300-hour certification in 2008 and a 500-hour apprenticeship in 2015.
Emily first discovered yoga as a way to balance out a lifetime of distance running. It wasn't long before she came to rely on the practice to bring relief to both her body and mind from long days sitting at a desk and long miles on the road. Emily completed her 200-hour teacher training through The Studio DC in Washington, DC in 2013 and has since then continued her education through hundreds of hours of teaching experience, personal practice and by working with her own mentors and teachers. On the mat, Emily strives to create a challenging yet mindful experience for her students, encouraging breath and flow as means to approach difficult postures.

Off the mat, you can find Emily running, traveling, or in the kitchen, usually whipping up healthy treats. In addition, Emily is a certified holistic health coach through the Institute for Integrative Nutrition. She helps her clients gain energy, reduce stress, and feel their absolute best through simple behavior and lifestyle changes. To learn more about Emily head to www.emilynachazel.com or follow her on social media @emilynachazel.
Holly has been in love with movement her entire life. She hails from a background in Modern dance with a BFA in performance. Dance brought her to New York City, which then lead her to Yoga. Holly received her 200 RYS training in Vinyasa from Yoga to the People. Holly has been teaching Yoga full time for 6 years and counting, with over 6000 hours of teaching experience. She is big lover of boney anatomy where she has studied under Amy Matthews for four years at the breathing project.
She teaches power vinyasa, heated vinyasa, and hot hatha classes. Her classes are challenging, rigorous, heart felt, and always taught with a sense of love and a sense of humor. Holly believes that the best teacher lives inside of her students, that yoga makes the impossible- possible, and that you can truly transform your life from one powerful, thoughtful, deep breath.
Janel is a NYC-based medical education researcher and yoga instructor specializing in prenatal and postpartum yoga. She received her medical degree with a concentration in women's global health from the Robert Larner College of Medicine in Burlington, Vermont. She has worked with underserved communities in southeast Africa to promote sexual health, HIV awareness and safe obstetrical practices. After completing her medical studies, Janel returned to her hometown of Brooklyn Heights to complete her 200-HR vinyasa yoga certification at Jata Veda under the thoughtful guidance of Keri Setaro and Paula Loose. She received her postpartum yoga certification from the Integral Yoga Institute under the tutelage of Lara Kohn-Thompson and Beth Donelly Caban. Janel carefully integrates research-based mindfulness techniques, body awareness exercises and breath-work into all her classes. She threads her medical experience into the childbirth education portion of her prenatal classes. She will often weave in stories of her work as a senior medical student working in the maternity wards and birthing centers in Uganda. She enjoys sharing her experiences and enlightening others with the different ways childbirth is experienced all over the globe! She incorporates the use of pelvic models, baby trainers and birthing props to help students visualize the physical and physiological changes that occur during pregnancy and childbirth, as well as to explain and simulate the process of childbirth. Her prenatal students gain an understanding of the importance of cultivating resilient a pelvic floor and overall body awareness. Janel is currently creating a postpartum wellness program in Brooklyn Heights with her business partner Abigail Groff while preparing to embark on her medical residency in Family Medicine.
Jenny is a New York City based, 200hr RYT who specializes in Vinyasa Yoga, Meditation and Restorative Yoga. The tranquility of stillness and breath drew her into the practice, while the desire for continuous learning and self-discovery, love for asana and bonus of strength gained (both inner and outer) kept her coming back and diving deeper. Jenny believes that all that is practiced on the mat emulates practice in life and she is passionate about empowering others to discover a balanced, inspired and connected existence through living and breathing in the present moment. She credits a large part of her healing from life-long, chronic illness to living the yoga and meditation practice daily and regards these modalities to be true methods of self-care and restoration for the body, mind, heart and spirit. Jenny also loves to have a little fun and laugh a lot along the way to discovering your own version of inner peace, harmony and happiness.
Jessica Kulick believes in yoga as a practical tool: a movement practice for the health of body and a philosophy for the health of spirit and mind. She completed her 200-hour Vinyasa teacher training with Yoga to the People in 2012, and their Hot Traditional Intensive the next year. She went on to manage several studios and teacher trainings, all while maintaining a private and corporate clientele. Most recently, she graduated from Prenatal Yoga Center's 85-hour Prenatal Vinyasa training, and now weaves childbirth education and therapeutic applications into sequences intelligently designed for the pregnant body.
Jessica's classes integrate storytelling, humor, compassion, and dope playlists into the asana work. She loves to investigate the delicate balance between strength and flexibility, and encourages her students to become curious about the possibilities that breath can unlock within their bodies. She has well over 2,000 hours of teaching under her belt.
In addition to teaching, Jessica is the editor of Aligned Mag, an online journal dedicated to the guru within. She is steeped in the evolution of yoga in the West and continues to dive deeper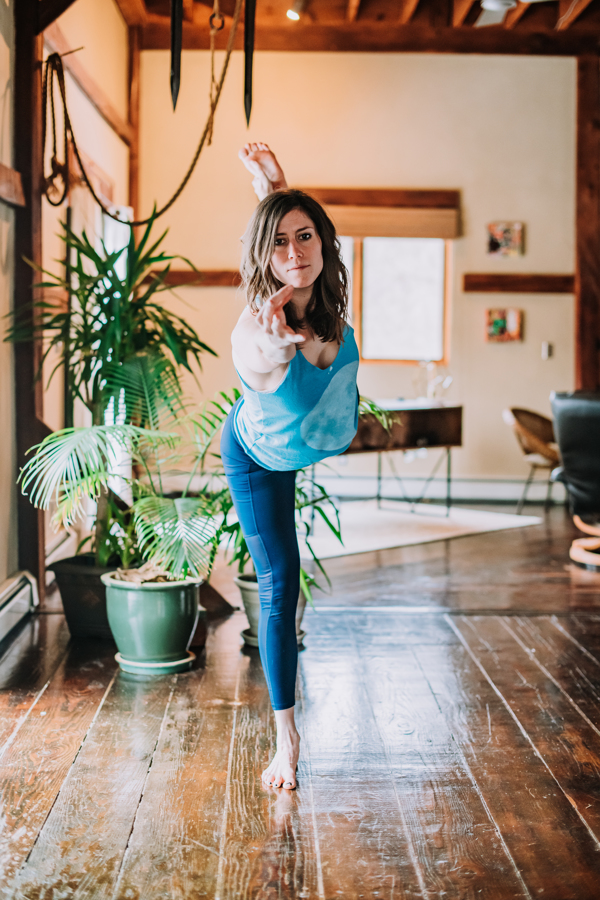 Jewel City Yoga Director, Jillian Schiavi is a 200 HR ERYT vinyasa teacher who began her teaching journey in 2010 at Yoga to the People NYC. Since then, she's taught in Massachusetts, Chicago, Oakland, and Brooklyn, and brings her experience, insight, and intuition to her teaching style. An artist and writer, her creativity also informs her sequencing, instruction, and the emphasis she places on pranayama, and moving gracefully with breath. She loves connecting to the community of students in her classes, and believes that yoga is most effective when practiced off the mat and out in the world.
Jillian is the Lead Teacher for Jewel City Yoga's 200 Hour Teacher Training program, and is excited to help shape and support a new wave of compassionate, creative, and beautifully diverse yoga teachers. Her focus on empathetic listening and linking yogic philosophy to day-to-day interactions is apparent throughout her teaching, and takes center stage in JCY's Teacher Training.
You can also travel with her on any of Jewel City Yoga's local and international retreats. Jillian heads the retreat program with Concetta Troskie, and is excited to partner her love of travel with a practice that can take place anywhere in the world.
Originally from Long Beach CA, Jovan started doing Yoga at the age of 19 to complement her dance training and for her curiosity of this practice. No matter where she lived or traveled, she always found herself turning to Yoga to support her in her life. She first started teaching yoga to children and later decided to dive deeper and receive her 200 Hr ShaktiYoga teacher training with Julie Dohrman. She is inspired by life itself and it's many lessons and Jovan's classes are an enlivening mix of her deep love of movement and the discovery of the medicine that can be found within this practice. Our in class flow will invite practitioners of all levels to trust the wisdom the body holds and to show up as we truly are. She is currently teaching Yoga for all ages in the New York City area and lives with her son Eko in Brooklyn.
Julia Arenson has been practicing Hatha yoga since childhood and has been a certified yoga instructor for 21 years. She is a DONA-trained Birth and post-partum doula, an aspiring birth educator through CEA-MNY and specializes in prenatal yoga, breath-centered Vinyasa flow and Parent-Baby yoga.
Julia was raised in a family of yoga teachers and practitioners and was first certified through the Sivananda Vendanta tradition in 1997. She is also certified in "Anatomy and Breath-centered yoga" through Leslie Kaminoff of The Breathing Project, prenatal yoga by Janice Clarfield and Mommy and Me" yoga through Om Baby. Julia has also performed and taught Middle Eastern ( Bellydance) for over 25 years and enjoys safely incorporating some of the earthy and organic vocabularies of Middle Eastern dance in her prenatal and Mommy-Baby classes. Her ever-evolving practice has also been inspired and influenced by the strong alignment principles of Iyengar and Anusara as well as the flowing Vinyasa style of Jivamukti yoga. Julia has had extensive experience in teaching diverse populations, body-types, and levels. She has taught movement and Hatha yoga to pre-schoolers and teenagers within the public school system and to the injured and elderly in nursing and rehabilitation centers. Her classes are flowing, engaging, compassionate and restorative with an emphasis on proper alignment and the yogic principle of seeking both stability and ease within each posture.
Kate Sullivan is a passionate, dedicated teacher who believes in life long learning and creating authentic relationships that facilitate growth. She began practicing yoga regularly 12 years ago and loved the expansiveness and freedom she found in body, mind, body and spirit. Kate's consistent practice allowed her to become more peaceful and compassionate, and the increased sense of spirituality indicated that she had found a home. Through the use of Tibetan yoga inspired philosophy, breath work, and movement of the body, she considers it a great honor and joy to share practices that help people feel happier and at ease in their body and mind.
Trained in the Fluid Yoga style, Kate's classes dynamically link the flowing nature of breath with mindful, continual movement and creative sequencing. This heat-building vinyasa flow with well-curated music will not only increase strength and flexibility, but also train the mind to be more content and relaxed throughout the most difficult challenges on and off the mat. Using classical elements as inspiration, students will become grounded with earth, explore the flowing movement of water, ignite fire within their bodies, and empower the air flowing within. All classes end with a guided savasana to embrace our space element and rejuvenate the spirit. Students will leave class feeling peaceful, powerful and full of bliss.
Kate completed 200-hour training with Yogaworks and 500-hour advanced training with Fluid Yoga. In addition to teaching yoga, Kate, a former special educator and social worker, is an education consultant for schools, teachers, students, and yoga schools.
Katie has been a lover of movement for all her life. She started dancing at age three and has spent the last 25 years dedicated to the art form. Her professional dance career led her to yoga, and her love for the practice (on and off the mat) has been deepening ever since.
In 2016, Katie earned her 200hr Yoga Alliance certification from the Yandara Yoga Institute in Baja California, Mexico. She teaches both group and private classes to students of all ages and abilities, and can offer modifications for injuries on a case by case basis. Katie draws on her 25 years of dance experience and her unique understanding of the body in motion to deepen her teaching practice. Her extensive body awareness allows her to teach Vinyasa flow classes that focus on finding ease in movement, healthy alignment, the connection of movement to breath, and releasing past limitations. Katie is most passionate about helping others discover their internal sense of joy and empowerment through bodily movement.

When she is not dancing/teaching/practicing, you can usually find Katie running in Prospect park, curled up with a good book, or spending time with friends and family.
Katie moved to NYC 10 years ago to study art and found yoga. It gave her a new way to express creativity through movement and has brought her on a path of transformation. Katie received her 200hr TT from Sacred Brooklyn studying with Stephanie Battle and Dara Cole, continued her training at Katonah Yoga with co-creator Abbie Galvin, and recently became a breathwork healer with David Elliot. Always learning and forever a student, she hopes to share the gifts yoga has given her: love for yourself, the freedom to explore your body, mind, and open your heart.
Katie lives in Brooklyn with her cat Pip and received her BFA from Pratt Institute.
Keely Angel is an visual artist, musician and teacher of contemplative and embodiment practices. She is inspired by the Indian wisdom traditions of non-dual Tantra and Bhakti yoga. Keely has taught Hatha yoga in New York City since 2012, guiding people of all ages and physical capabilities to find a deeper sense of mind/body integration. She recently completed a 500 hour Hatha training with Tara Glazier and a Kundalini training with Guru Dharam Khalsa and Siri Sat Kaur. Keely lives in Brooklyn with her husband Aaron, and their daughter Jaya.
Kelley received her 200 hr RYT certification from Dan Ward Yoga School in Los Angeles in 2014 and has been practicing for the last ten years. In 2015, she traveled to Sofia, Bulgaria with teachers Dan Ward and Rudy Mettia to participate in the production of streaming yoga classes through Udaya Yoga. Prior to moving to New York, she taught classes at Power Yoga Santa Monica.

As a teacher, Kelley emphasizes safe alignment and rigorous focus in the context of a strong and grounding flow. The yogic texts are foundational to her practice, and she aims to bring their insights into class when appropriate. In yoga, she found the invaluable practice of paying attention to the moment one finds oneself in, and she strives to imbue each class with this equanimity.
Yoga for me is the entry point that allows me to be fully embodied – mind, body, spirit – and connected to source. I believe with every part of my being that it is our purpose to love and support one another to our highest good. In my classes I offer what feels strong and empowering to me: abs and core work with a healthy balance of strengthening and stretching. I like to offer intuitive movement, modifications and alignment cues to create deeper connections between intellect and feeling. I am always in my head, analyzing, thinking...yoga is the one place – teaching and practicing – that I can let the busy brain take a back seat and be fully present in my body. It took me a long time to get over a lot of beliefs that held me back: "I'm not flexible enough," "I'm not ready", "It's not perfect," "It doesn't look right," whatever. It's only when we are free from distractions and mind clutter, that we can do the real work. My hope is to create a space for play, imagination, strength and joy in class to encourage our most radiant selves to show up.
I believe that the most intelligent parts of the human body lie in the viscera rather than the brain. Movement changes your place; movement changes your mind. After studying primarily the anatomical and the biological in college, I became interested in the body in the larger social structure, where I began to understand that bodies hold stories and mysteries not just from this lifetime, but also from those that have come before it. The same inquiry that led me from the study of the material body to the social bod led me to the studio, where I closed my eyes and became interested in listening the stories my body holds and my relationship to myself. I spent all of the in-between moments of college inside dance studios and inside the walls of Yoga to the People's St. Marks's studio, where I completed my 200hr RYT Vinyasa and Traditional Hot trainings, and learned to connect words to movements, myself to others, to dig a little deeper, and to hold space for others to explore and inquire. Yoga teaches me to look at myself, to feel things out with my breath and my body, to listen to the vibrations and knowledge already inside my body and to move deliberately and with an open heart. This is what I hope to share with others.
Leah Matthews is a native New Yorker and world traveller. She trained in classical dance and gymnastics through childhood and began teaching yoga at Jivamukti in 2005. Leah has been a top NYC personal trainer and Pilates instructor since 2010. She has mentored many other trainers and works with celebrities and local community members alike. Leah's yoga classes are a fun fusion of traditional sequencing, core stabilization, strength building and restorative work. Her personal training and Pilates sessions are challenging, effective and informative. Leah's fitness certifications include NASM, TRX, Pre/Post Natal, Senior Fitness, Kettle-bells, Thai Yoga Massage, Jivamukti Yoga, Pilates Mat and Apparatus, FMS, Triggerpoint, ViPR, Stand Up Paddle Board and Aerial Silks.
Liam has been teaching yoga since 2010. He has a 200 hour certification in Vinyasa Yoga from Yoga To The People, a 200 hour in Ashtanga yoga and two 50 hour certifications in Rocket yoga from Asta Yoga, and a 25 hour certification in yoga and meditation for kids in correctional facilities from The Lineage Project. Liam did not come to yoga from any athletic or performance background, he came to yoga after hitting rock bottom as a teenage alcoholic and juvenile delinquent. The practice completely changed his life for the better and he has since committed himself to sharing yoga with as many people as he can.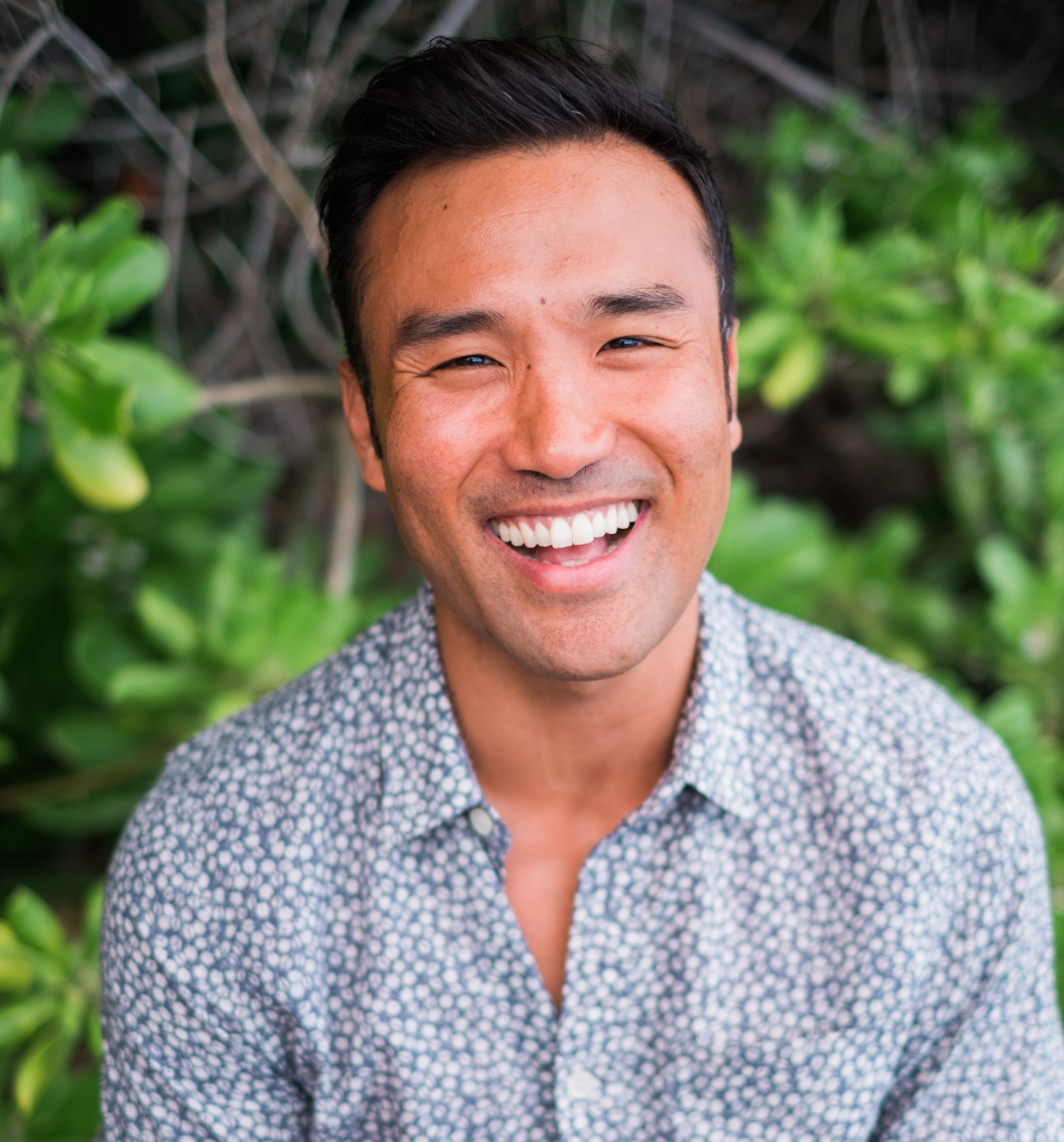 Marc celebrates yoga as a way to tap into the breath's enormous power to connect us more deeply within so that we can relate to the world around us. He promotes a well-rounded practice, both steadfast and yielding, that balances flow with stillness. Fellow practitioners of all levels are encouraged to creatively explore their edges while
cultivating a deep sense self care. He has been practicing yoga for over ten years and began his teaching journey eight years ago with Yoga to the People. He has since taught in both New York and Seattle and is thrilled to teach at Jewel City. Just bring yourself and we'll go from there!
Marissa started doing yoga in an effort to stay in shape after leaving behind years of classical ballet training. However, she quickly discovered that it was much more than a physical workout, offering her mind and spirit some much
needed care and nurturing. She spent a couple of years practicing yoga occasionally at gyms until she discovered Vinyasa Yoga. Marissa fell in love with the flow, which allows fluidity of mind and body and feels so much like dancing. Soon enough, yoga became a necessary part of her life.
Marissa completed her 200 hour teacher training through South Boston Yoga under the guidance of David Vendetti and Todd Skoglund in 2011. She teaches classes that are dynamic, accessible and based on proper alignment and smart sequencing to encourage a sustainable and healthy yoga practice. It is her goal that students experience yoga as a source of empowerment, growth, and peace both on and off the mat.
Megan leads vinyasa, yin, and restorative classes, and you will likely find a little of each style intertwined into every class. She believes in a dynamic and personalized practice, incorporating balance, exploration of self, and stillness of the mind and body. Megan turned to yoga during her own personal transformation, and is fascinated by it's ability to address anxiety, physical wellness, and any fears and blocks that hold us back. A lover of metaphors, she believes that how we act on the mat is how we act off of it, so our asana practice a great place to cultivate breath, strength, power and agility to show up more intentionally in the world.
Melissa Kaitlyn Carter teaches yoga and leads a duel life as a musician, but she couldn't imagine a life without one or the other. She first started practicing yoga on the daily during her final year in undergrad; it became her life line - a container to synch movement & breath to find her way to the present moment.
She melds creative practice and yoga in her public classes, with private clients, and in group creativity workshops. She first received her 200hr with Piedmont Yoga in Oakland, CA and has continued training at Laughing Lotus, New Love City and Yoga Vida.
In her classes, look forward to slowing down, sweet essential oils, sometimes live music, and always connecting to being enough exactly as we are.

Paula Reyes has always been fascinated by bodies and movement. She received her first training in movement at the early age of 5 as a ballet dancer. She grew up with a dancer's discipline, which led her to explore her own body's graceful capabilities and perceive her own space. She carries this dynamic background into her yoga practice and shares it with others in her yoga classes.
Paula took her very first yoga class in 2008, which to her felt like coming back home. Since then she has become fascinated by the joy and every other feeling that would emerge during and after all forms of yoga practice, and has learned to cherish the experience. She considers this experience as a gift and has made it her duty to share it with as many people who are open to receive it as possible.
Paula considers herself a forever student and is curious to learn the all-encompassing aspects of yoga through the guidance of her many teachers. She received her 200-hour Yoga Alliance Certification through Yoga to the People in May 2010. In November 2016, after moving to Hawaii, she completed an additional 300 hours of Advanced Yoga Teacher Training with Nicki Doane and Eddie Modestini at Maya Yoga on Maui. In December 2017, Paula joined Nicki Doane for a weeklong intensive in Yoga Philosophy through another 100 hours of Continuing Education program, called Maya Yoga Citta Flow Teacher Training. Most recently in November 2018 in Honolulu, she participated in another 300-hour program with Yogi Charu, fine-tuning her meditation practice while embracing Yoga Nidra and further understanding Swara Yoga and yogic breathing.
Sara is a Brooklyn based actor, movement artist and yoga instructor. She is passionate about finding freedom from physical, mental, and emotional barriers, and believes that the cure is movement. She began practicing yoga as a way to distract herself from the stress and anxiety of everyday life. She found that through connection to the breath and movement of the physical body, she is able to explore and enjoy life as a more curious, spiritual journey. Sara is eager to share love, gratitude and permission with her students, as well as great music! She also enjoys incorporating some of her movement training (Williamson Technique) into her sequences to invite new and exciting exploration. Sara completed her 200hr teacher training through Atmananda Yoga and teaches group classes at studios in Brooklyn and Manhattan. She is also part of an all women movement company (LAS:NYC) and leads weekly jams with friends. She encourages all of her students to give permission to each other while finding their own stability and power through the practice on and off the mat.
Sumanta's goal as a teacher is to help students better understand the connections of the body and to foster community. She has been practicing yoga for eight years and completed her 200-hour teacher training at Yoga Vida, as well as a mentorship at Hosh Yoga. For her, yoga is a constant reminder to cultivate gratitude, kindness and a thirst for knowledge, both on and off the mat. She lives in Crown Heights with her sidekick, Ina the dog, and is frequently found in the Garment District at her day job as a fashion designer. Sumanta is deeply grateful to be a part of the Jewel City community.
Tam Kamya is a 200HR certified yoga teacher with a dynamic and devotional practice, and a Reiki Level II practitioner. Her classes are interwoven with chanting, storytelling, and examples from he personal experience on and off the mat, and topped off with soothing Savasana assists. Tam completed her training at Laughing Lotus Yoga Center, New York, under the guidance of loving mentors and the supervision of studio founder and beloved "teachers' teacher," Dana Flynn. She has been initiated into the Reiki tradition by Caroline Cunningham, Reiki Master. Tam continues to express her boundless gratitude for all her teachers by offering selfless service or seva, and sharing the transformative experience of yoga with others. Tam also holds a BA in Art History and degrees in Performing Arts, for the piano and voice.
Tonie started her yogic journey over 10 years ago and fell in love with the physical and mental balance, and transformation that yoga afforded her. Wanting to share that benefit with others, she completed her 200 hr teacher training at Sonic Yoga in New York City. Her classes focus on exploring the yogic path, and meeting each yogi where they're at through lighthearted, explorative and athletic vinyasa flows, with a strong hatha-based emphasis on alignment. Yoga has helped Tonie to always remain mindful of the transition stage between the start and the destination, and her classes also focus on transition and transformation through the incorporation of mudras, pranayama and energy center healing.
After discovering the peace, joy and balance that yoga can bring to a sleep deprived mother trying to balance a full time job and various volunteer activities, Toya knew she had stumbled upon something sacred and magical. Toya believes yoga truly is for every body because it meets you where you are, without judgment, and grows with you over time.
Toya is an energetic, passionate and creative yoga instructor who is dedicated to teaching yoga to people of all ages and body types. She crafts fun, challenging, and safe sequences that are alignment-based and link breath awareness to movement by offering an accessible step-by-step approach. Her goal is to cultivate a diverse community of yogis who are committed to strengthening their body, mind and spirit. She
completed her 200-hour certification at Yoga People in 2012 and her 300-hour Professional certification at YogaWorks in 2016. She has earned additional certifications in Prenatal Yoga and Restorative Yoga.